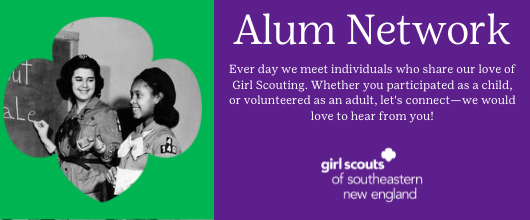 Alumnae
Once a Girl Scout, Always a Girl Scout!
No matter how you were involved with Girl Scouts – Brownie for a year, Gold Award Recipient, first-time troop leader – you're forever part of a 59-million-strong network of Girl Scout alumnae with success stories to tell and memories to share.
Our Alumnae Association brings together women who want to reconnect with old friends and make new ones though fun groups and events. We are building a culture of philanthropy and engagement through volunteer opportunities, both within Girl Scouting and our broader community.
Visit the official GSUSA Alumnae Association Page and register as a Girl Scout Alumnae. Once you register you can send e-cards, share stories and become a member of the alumnae mailing list! Support the organization that brought you so much, giving you the foundation to build your life upon. 
In effort to reconnect with our GSSNE Alumnae specifically, we have created a GSSNE Alumnae Facebook page. In order to encourage our alumnae to build the bonds of our history as Girl Scouts, please visit the GSSNE Alumnae Facebook page, like and share!
Impact the lives of Girl Scouts at all levels. Volunteer your time and talents at one of our upcoming Girl Scout events!
Have a special story you want to share with us about your Girl Scouting experiences? Email us for an opportunity to be interviewed and featured in future GSSNE publications!