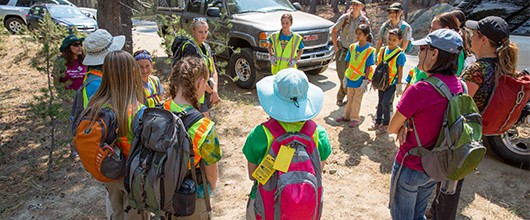 Careers
Are you mission driven, looking to work in a dynamic team environment, and influence the lives of girls? Then Girl Scouts of Southeastern New England may be the place for you!
Working at GSSNE is all about a passion and commitment to help girls grow into the best version of themselves in an ever changing and challenging world. It's about delivering leadership programs and working side-by-side with volunteers to bring the Girl Scout mission to life while building partnerships in our community. 


GSSNE is an Equal Employment /Affirmative Action Organization.
Open positions in our council office:
S.T.E.A.M. Specialist (listed 11.8.17)
Freelance Grant Writer (listed 10.24.17)
Outdoor Program Manager (listed 10.19.17)
Customer Experience Membership Services Specialist (part time)
About Internships
Throughout the year, Girl Scouts of Southeastern New England will post internship opportunities as they become available. In the meantime, check out our GSSNE internship informational flyer for college students.
About Summer Camp Positions
All staff must be at least 18 years old by the start of the camping season. Some positions require certifications. If possible GSSNE will help a staff member procure these certifications.
Complete a summer camp application and submit or return it to:
Girl Scouts of Southeastern New England
500 Greenwich Ave
Warwick, RI 02886
or via fax at 401.421.2937

You must also ask two individuals (not relatives) who can judge your qualifications for this position to fill out this reference.
Check Back for Open Positions for the 2018 Summer Camp Season
Seasonal Positions:
Assistant Unit Leader - Day Camp
Unit Leader - Day Camp
Assistant Cook - Resident Camp
Head Cook - Resident Camp
Kitchen Assistant - Resident Camp
Unit Counselor Resident Camp
For the above camp positions, please fill out the job application online at: http://www.gssne.org/en/our-council/careers.html
No phone calls please.
About Our Summer Camp Positions
When you choose to work at one of our Girl Scout camps, you choose to be part of a supportive community of people who build girls of courage, confidence and character. We operate four day camps (Camp Green Forest in West Kingston, RI; Camp Promising Acres in Swansea, MA; Camp Cookie in Glocester, RI; and Camp Rocky Farm in Newport, RI) and one overnight camp (Camp Hoffman in West Kingston, RI). Girl Scouts of Southeastern New England's summer camp season begins in late June for resident camp and early July and ends in mid-August.
Training
All staff receive training in camp and program skills, operational and emergency procedures, leadership skills, age-level characteristics, positive discipline and conflict resolution.
Incentives
In addition to your salary, you may sign up for our incentive program. If you work at camp, your child can  attend Girl Scout camp at a significant discount (discount varies by the number of years you've worked for Girl Scout camps).