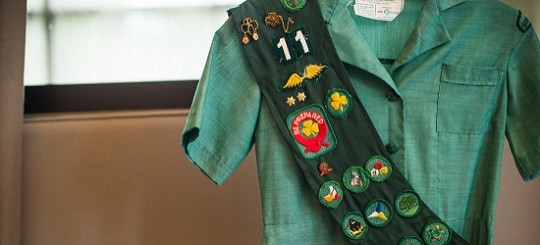 Council History
In 2012, the Girl Scout Movement celebrated its 100th anniversary. That means over 100 years of building girls of courage, confidence and character who make the world a better place!
Here at Girl Scouts of Southeastern New England, we have a rich and vibrant history all our own which began in 1914. Thanks to the vision, passion and hard work of many women of courage, confidence and character Girl Scouts here in the Ocean State was given the chance to make it's mark!
Below is a detailed timeline featuring our history:
1914: The first Girl Scout troop in Rhode Island began meeting at Darlington Congregational Church in Pawtucket, led by Elizabeth Ann Bury, a nurse at Memorial Hospital. Within three years, troops were organized in Providence, Woonsocket, Barrington and Westerly, open to all girls from ages 10 to 17.
1917: The Red Clover Troop of Newport became the first in the state to register officially with the national organization. The first girl to be pinned in Troop 1 was 15-year-old Catherine "Kit" Hammett.
1919: Girl Scouts of Rhode Island was chartered by the national organization and incorporated in Rhode Island to coordinate local efforts, organize troops in new areas, train leaders and provide camping opportunities. Each city or town established its own council.
1920: Prudence Island became the site of GSRI's first resident camp. Legend has it that the next year, Mira Hoffman of Barrington, the woman who became commissioner of the new state council, drove around the state until she found property that would make a more suitable camp for the girls. The mother of two sons – and no daughters – was instrumental in the purchase of a former farm of 23 acres on Larkin Pond in West Kingston now known as Camp Hoffman.
1921: Camp Hoffman opened. Girls were instructed to pack, among other things, bloomers and semaphore flags! A week of camping cost $2.
1923: The first RI Brownie pack met in Newport.Edith Ballinger Price, who became its leader, went on to become national chairwoman of the Brownies from 1925–1932. Though still in her 20s she became known as the "Great Brown Owl." The prolific author and illustrator wrote the first Brownie handbook. Her work appeared in Girl Scout magazines for 40 years.
1927: Treasure Chest is designed by Mari Gaudette and built at Camp Hoffman.
1928: Mira Hoffman was named the fifth national president of Girl Scouts of the USA.
1934: Mariner Scouts, originated in RI, were introduced at a Girl Scout convention in Boston. Kit Hammett is credited with pioneering the program, which went national. She joined the national staff two years later, at age 34.
1936: GSRI headquarters are at 227 Benefit Street in Providence, which also houses the School of Homemaking.
1944: Near the end of World War II, GSUSA sent Kit Hammett and five others to set up camps for the United Nations to aid children in Greece, Egypt and Palestine. In Greece, she was responsible for the recreational and vocational training of 50,000 children who had fled German occupation. In the '50s and '60s, she developed GSUSA's outdoor program and toured 46 states to train 14,000 volunteers in how to camp.
1945: Electricity comes to Camp Hoffman.
1953: In Rhode Island, Navy wives with wide experience add much to troop and community leadership. Salt Pond is acquired.
1956: Sixteen local RI councils consolidate into nine.
1962: Nine Rhode Island councils consolidated into one statewide organization: Girl Scouts of Rhode Island, Inc. Nokewa, a campsite formerly owned by the Warwick council, is named for three communities (North Kingstown, East Greenwich, Warwick) and Camp Rocky Farm is also acquired in the consolidation.
1968: The Rhode Island Girl Scout council served 21,094 girls and adults.
1973: New first grade Brownies. Camp Wahaneeta comes to GSRI.
1974: After several moves over several decades, GSRI purchased and renovated the historic Canal House building on Charles Street in Providence for its headquarters. The building, on the banks of the Moshassuck River, was the site of the city's first grist mill, in 1642. During the Civil War period, it served as a station on the "underground railway" for slaves making their way to Canada.
1976: GSRI marks the Bicentennial with a wider opportunity called "Gansett Gam": 150 girls and adults from 48 states march in the Bristol Fourth of July parade, visit the Tall Ships in Newport, make new friends and share swaps at their Hoffman headquarters.
1980: Longhouse is built at Camp Hoffman as a multi-purpose building for training, meetings, and troop camping.
1987: Juliette Low Friendship Medal went to Catherine "Kit" Hammett, a member of RI's first Girl Scout troop. The lantern at Camp Hoffman's gate is dedicated to Kit Hammett in honor of her 70 years as a Girl Scout.
1989: An Olympic-sized swimming pool is built at Camp Promising Acres and Camp Narrow River is purchased.
1990: The Sarah Hazard Nomer Museum was established at Camp Hoffman in the newly built House-by-the-Side-of-the-Road. Among the collections are vintage uniforms, camp memorabilia, and a medal awarded to Kit Hammett by the Greek government. Troops can visit the museum by appointment. Camp Cookie is purchased with a generous grant from The Champlin Foundations.
1993: Nearly $200,000 was raised for the construction of a new year-round overnight facility at Camp Rocky Farm in Newport, RI to replace "Elms" summer camp.
1996: Kit Hammett was inducted into the Rhode Island Heritage Hall of Fame.
1998: GSRI's summer city program for inner city girls celebrates 25 years and expands into three full programs.
2002: More than 950 generous individuals, organizations, corporations and foundations gave $3,551,000 to restore Camp Hoffman.
2004: Girls in our council sell more than 792,000 boxes of Girl Scout cookies.
2007: GSUSA realigns many of its councils nationwide and GSRI gains eight new communities in Massachusetts (Attleboro, Fall River, North Attleboro, Plainville, Somerset, Swansea, Westport and Wrentham).
2010: GSRI launched its own Facebook page and had 700 "friends" within a year.
2011: Janet A. Feyler, CEO for 17 years, retires and GSRI welcomes a new CEO, Jean McGrane.
2012: Girl Scout Movement celebrates its 100th anniversary and Governor Chafee declares 2012 "The Year of the Girl".
2014: Girl Scouts of Rhode Island undergoes a name change to become Girl Scouts of Southeastern New England, GSSNE, in an effort to fully encompass the expanded service demographic which includes all of Rhode Island, thirteen Massachusetts towns and Pawcatuck, CT.
Special thanks to volunteers Judy Lonardo and Cyndi Harney of the GSRI Museum Committee for assembling the content of this page.