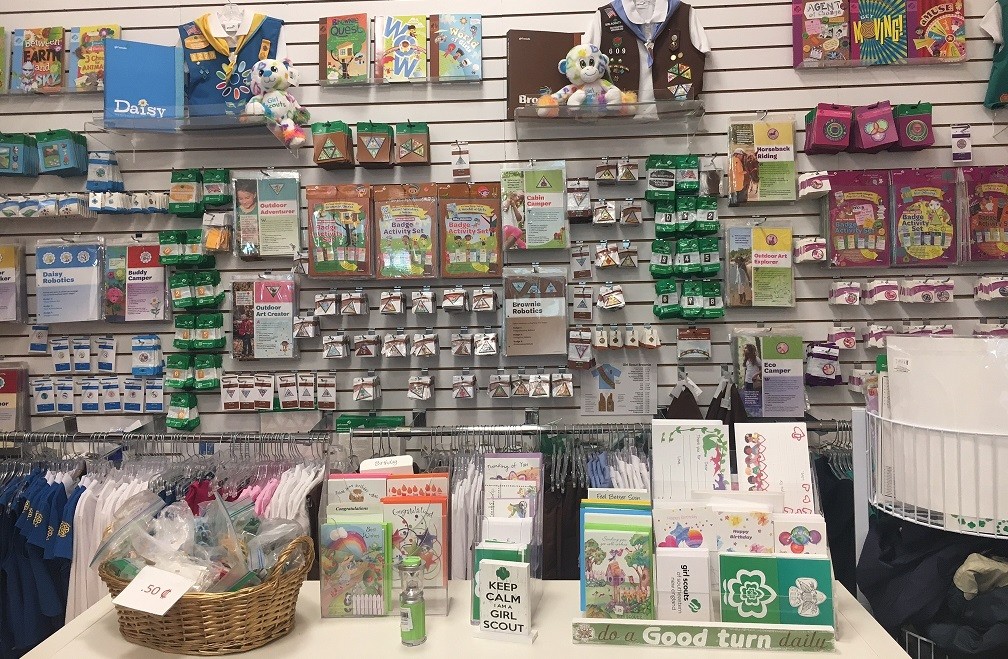 Girl Scout Shop
CHECK OUT OUR LATEST SALE!
Stop by the Warwick Council Retail Shop and take 20% off all Gold, Silver and Bronze Award merchandise! Take advantage of this limited time offer and show the Girl Scout in your world how brightly she shines
By purchasing your uniform pieces, Journey books, fashion apparel, gifts and other Girl Scout items locally, you are supporting the girls in our council. Proceeds from our Girl Scout shops help underwrite the costs of adult and girl training, recruitment, and informative publications like S'More News, our monthly e-newsletter, the Program Guide and our Summer Camp Catalog.
Online Shopping
Save your time. Save gas. Click here to access our secure, online shopping site! Our shipping rates are very reasonable and we accept VISA, MasterCard and American Express. All proceeds benefit the girls in our council. Questions or Comments? Contact us at shop@gssne.org. We'd love to hear from you.
Catalogs & Specials
Preview what we have to offer at our shops via our cool Virtual Catalogs!
Uniform Insignia
Not sure where everything goes on your uniform? Click here to go to GSUSA's web page that is chock full of information about insignia and badge placement for all grade levels.
GSSNE Girl Scout Shops
Our spacious, sunny Girl Scout Shop is located at our new headquarters building at 500 Greenwich Avenue in Warwick, RI. There is plenty of free parking.
Regular Hours
Monday through Friday from 8:30am to 5:30pm
and Saturdays from 10am to 3pm.
Phone number:401.331.4500 x1201.
Our other shop location is:
The Friendship Shop
at Camp Hoffman 
2850 Ministerial Road 
West Kingston, RI
Regular Hours:
The Friendship Shop at Camp Hoffman is open on Saturdays from 10am to 3pm. Please note it is no longer open on Wednesdays.
The phone number at The Friendship Shop is 401.783.2367.

More Information
For more information on the shops and Girl Scout merchandise, contact  Louise Moore or call her at 401.331.4500x1200. Louise is happy to assemble your order in advance to save you time! In fact, she's just probably "hanging around" waiting for your call!