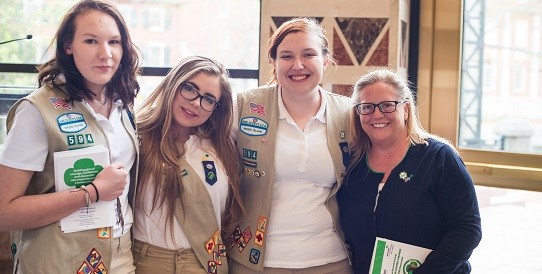 Community Connections
Throughout the year, Girl Scouts all over our region are engaged in a wide range of community service activities – contributing to their communities as individuals, and as part of a troop. Girl Scouts are encouraged to connect with one another, and to reach out to those in need.
Hispanic Initiative & Urban Outreach Initiatives
Girl Scouts of Southeastern New England believes that EVERY girl who wants to be a Girl Scout should be a Girl Scout.
The Hispanic Initiative
In 2014, GSSNE convened a Hispanic Advisory Board, with the goal of reaching out to the Hispanic community to acquaint them with Girl Scout programs and recruit girls and adults. Collectively, GSSNE has an extensive community based network of troops and afterschool programs working through established organizations. There is a need to introduce and engage young girls from underserved communities to leadership development and empowerment opportunities. We are committed to ensuring that all girls have access to our well-developed resources regardless of their zip code and/or economic situation. Currently the number of GSSNE members is not representative of the RI Latino population. The Hispanic Advisory Board believes that it is due to a lack of awareness, particularly for limited English speaking households.
GSSNE is adopting an inclusive approach to increase participation in existing troops and programs. The approach aims to be mindful of the barriers preventing young girls from participating in GSSNE activities and proactively addressing those challenges in collaboration with partners who are committed to transforming communities.
Check out the WJAR news segment from our April 2nd, 2016 Hispanic Initiative event!
Interested in getting involved? Please reach out to our Council Office at 401-331-4500. We'd be happy to have you lend a hand in this important outreach effort!
Urban Outreach
In various urban communities in Rhode Island and southeastern MA, girls can become part of after-school troops or take advantage of six-week summer sessions, the costs of which are subsidized by corporate and other private foundations. Last year alone, generous contributions enabled 1,300 girls from urban communities in RI and MA to become Girl Scouts.
You, too, can support our Outreach efforts by making a donation online.