Help a Mother This May Through the Family Partnership Campaign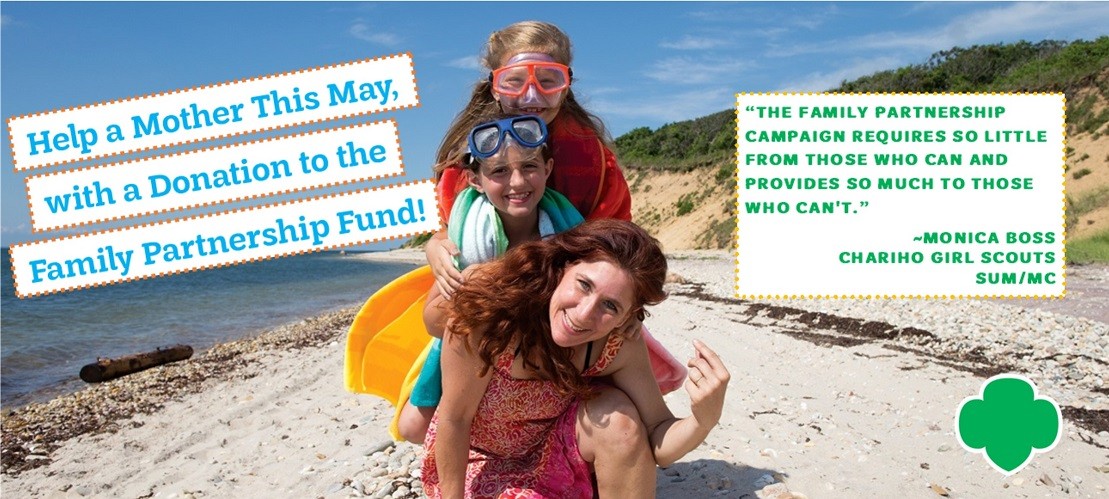 With Girl Scouts, whether it is through building a robot, learning to swim at one of our camps or completing a service project for our local community, today's Girl Scouts continue to experience the excitement of trying new things, discovering the world we live in and building confidence.
Unfortunately, not all families – whether they are moms, dads, or caregivers - can afford to provide this amazing experience to their girls. A donation to Family Partnership is a great way for you to partner with GSSNE and not only help those girls and families in need of assistance, but also help every girl at the Girl Scouts of Southeastern New England!
Our members have experienced first hand the importance of both giving to this fund, as well as receiving from it...
What does Family Partnership support?
Girls! Provides financial aid to girls who wouldn't be able to afford Girl Scouting otherwise
Programs! Allows us to offer new and innovative programming and council-wide events
Camp! Maintains our awesome camps and supports our camp programs
Training! Provides training and support to volunteers to better serve every Girl Scout
When you give to Family Partnership, you are investing in a G.I.R.L. (Go-getter, Innovator, Risk-taker, Leader)™
Here's how your donation could help a girl in your community:
$35 pays for the annual membership fees for a girl with financial need
$75 can provide a girl with her membership, a uniform & Journey book
$230 will send a girl to one of our day camps for a week
$400 sends a girl to a week-long overnight session at Camp Hoffman
$543 provides a girl with one full year of Girl Scouting
And did you know?  100% of a gift to Family Partnership stays locally and directly supports girls in our council! Anything you can give will make the difference in the life of a girl and her family!
Donate today to the Family Partnership Fund and help change the world of a G.I.R.L. And for more resources, check out our printable flyer and FAQs!
Together we can give girls the opportunity to discover, connect and take action in their communities; we can help families in our communities build girls of courage, confidence and character who will make the world a better place!