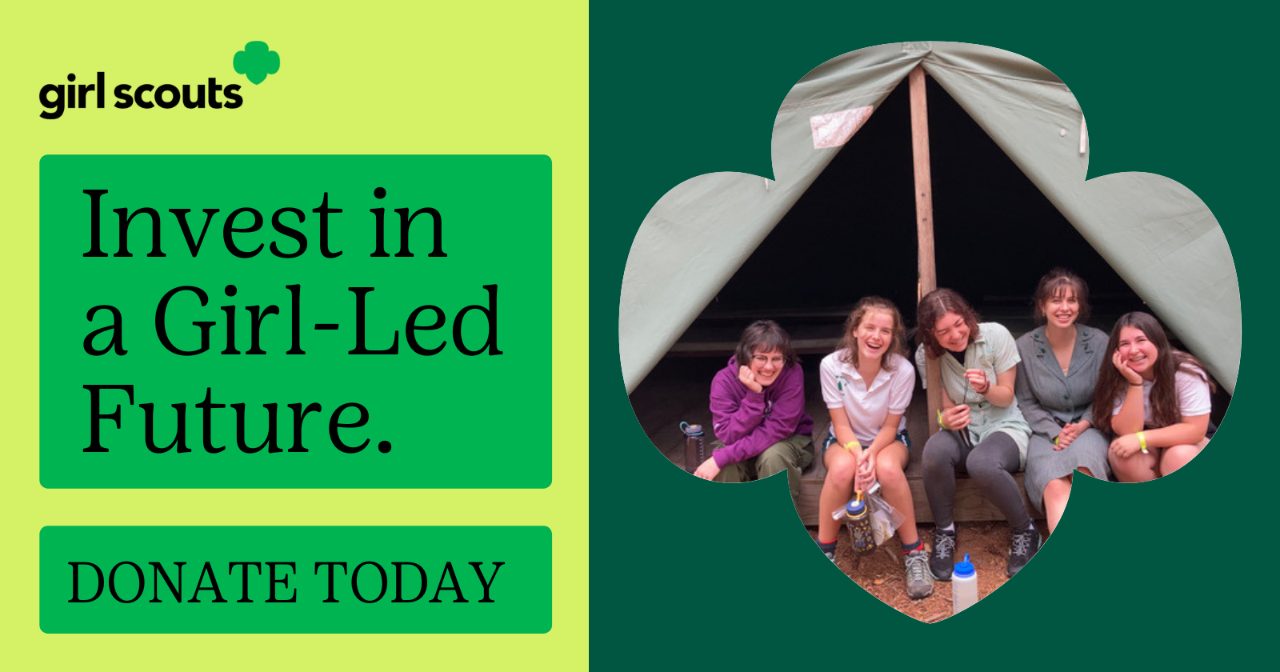 Ways to Give
Give in a Way that Matters the Most to You
At Girl Scouts of Southeastern New England, any support we receive is valued and needed in order to do the important work we do every day. Below you will find multiple ways in which you can give and support our mission to build girls of courage, confidence and character who make the world a better place. 
Click the green arrows below to learn more about the ways in which you can support Girl Scouts of Southeastern New England and the girls we serve everyday. 
Friends of Girl Scouting

Donations to this annual fund are unrestricted and are used where they are most needed.


Family Partnership

We also ask each family to consider a contribution to Girl Scouts of Southeastern New England's Family Partnership Campaign. This additional amount stays right here at home – Rhode Island, southeastern MA and Pawcatuck, CT.

An investment in our Family Partnership Campaign helps to pay for:

Camping/outdoor skills programs
Financial assistance for girls to attend wider opportunities and program events
Council wide events for all age levels
Creation and distribution of troop and girl communications
Leader and older girl training and support

The Family Partnership Campaign is a vital part of our annual philanthropic efforts. And we are proud to say that a large percentage of our Girl Scout families support us in leveraging additional support from corporations and foundations. We are already proud to say that 100% of our staff and 100% of our Board of Directors makes a financial contribution to GSSNE each year!

If you would like to mail your Family Partnership Donation, click here to download and print our donation form. Donations can be mailed to Council Headquarters. 

Have more questions? Check out our Family Partnership FAQ, brochure, and flyer! 

Camp Maintenance Fund

GSSNE is fortunate to own some beautiful properties in Rhode Island and nearby Massachusetts, which we maintain for the use of the girls in our council. Girls enjoy the natural beauty of places like Camp Hoffman, Camp Cookie, Camp Promising Acres and Camp Rocky Farm. Places where generations of women have made new friends, created memories and developed a deep and abiding love of nature. Donations to this fund will be used to make repairs and upgrades to our beautiful camp properties so they are well maintained for many more generations to come.

Campership Fund

In 2017, thanks to the generosity of parents, individuals, foundations, companies, civic organizations and religions organizations, we were able to distribute $36,300.00 in camperships to 136 girls throughout Rhode Island and southeastern Massachusetts.

When a parent or guardian registers their daughter for summer camp, GSSNE provides them with the opportunity to make a donation to the campership fund. Girls who want to attend Girl Scout summer camp, but cannot afford to do so, can apply for financial aid from this Campership Fund. Families applying for financial aid must pay the $35 per session deposit and most families who receive financial aid receive about 50% of the total cost.

By donating to the 2018 Campership Fund, you can help girls develop the leadership and confidence-building skills of Girl Scout Camp. Help us reach our 2018 Campership goal and help more girls attend camp this summer!  

Read some of the thank you notes we've received throughout the years from girls who were able to attend Girl Scout camp!

Community Outreach

Donations to the Community Outreach Fund provide program support and financial aid to girls in underserved communities in RI and MA who cannot afford the basic costs of participating in Girl Scouting.

Newhall Fund for Urban Programs

A gift to this fund will help girls from urban communities purchase uniform pieces and badges, go on field trips and even spend a week at Camp Hoffman. Of course, your donation helps us bring the valuable Girl Scout Leadership Experience to girls who can most use it - those in our under-served communities. 

Endowment Fund for Camp Hoffman

Donations to this endowment fund will ensure that Camp Hoffman will be here for girls in our council for generations to come.

Planned Giving

Planned Giving – Leaving a legacy of change

A gift through your will can be a powerful tool. Estate gifts are one of most important sources of individual support, ensuring programming that promotes the development of strong leadership and decision-making skills in girls all over the country. When preparing or updating your will, be sure to include the Girl Scouts of Southeastern New England.

Your gift can enable you to make a significant contribution that may otherwise not have been possible during your lifetime.Your gift can support a specific area or program.
A bequest can be for a percentage of your estate or a specific amount.
Your support will inspire and empower girls everywhere.

Consider a gift to the Girl Scouts as part of your estate planning. To facilitate the planning, we have provided suggested bequest language. Girl Scouts of the USA has created a wonderful planned giving website which will provide many of the resources you'll need as you create an estate plan. The site even includes a Will Planning Wizard!

The Juliette Gordon Low Society

Girl Scouts take action in their communities, working hard to make the world a better place. When girls visit the birthplace, they understand how their hard work is connected to Girl Scouts' founder, Juliette "Daisy" Gordon Low. Daisy was the first G.I.R.L. (Go-getter, Innovator, Risk-taker, Leader)™, thanks to her, Girl Scouts take action in their communities, working hard to make the world a better place.

In March 1912, Juliette Gordon Low gathered just a few girls to begin the Girl Scouts. Juliette's outstanding leadership was matched by her stewardship when she converted the carriage house of her home into the first Girl Scout national headquarters, and she gifted the property to Girl Scouts in her will.

Juliette's bequest was the beginning of planned giving to Girl Scouts. In her memory, the Juliette Gordon Low Society was established to thank and honor friends of Girl Scouting who choose to make Girl Scouts part of their legacies and a beneficiary of their estate plans.

Individuals who identify Girl Scouts of Southeastern New England as one of the beneficiaries in their will become part of the Juliette Gordon Low Society, which meets once a year.
OTHER WAYS YOU CAN SUPPORT GSSNE:
Customers Shop. Amazon Gives.
Amazon donates 0.5% of the price of your eligible AmazonSmile purchases to the charitable organization of your choice. AmazonSmile is the same Amazon you know. Same products, same prices, same service.
Below are the simple instructions to sign up:
www.smile.amazon.com – You must use this URL. Sign in with your existing Amazon account information. If you do not have an Amazon account, you can create one. It's easy and free!
Type in Girl Scouts of Southeastern New England as the charity you'd like to support.
That's it! Don't forget to use www.smile.amazon.com when you shop at Amazon from now on! Thank you so much for considering Girl Scouts of Southeastern New England for your charity of choice at AmazonSmile.
Matching Gifts from your employer.
Many employers will match the gifts their employees make to an organization like Girl Scouts. Usually all it requires is completing a short form – many of which are now online. Ask your employer if they'll match your gift to GSSNE or click HERE to see a full list of companies that will match your donation.
Ready to Help Change the Life of a Girl?
For more information about how you can support Girl Scouting in our council's area, feel free to contact Ginger or Jill in our Fund Development Department. They would be happy to speak with you in confidence.
Ginger Lallo                   Jill Martens
glallo@gssne.org           jmartens@gssne.org
401.331.4500                  401.331.4500