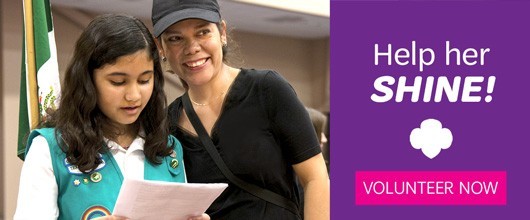 Get Started
We are overjoyed that you are considering becoming a Girl Scout volunteer! As a volunteer, you hold an important role in building girls of courage, confidence and character and in strengthening the next generation of girls.
We know as a volunteer your free time is precious so each year we work to make the training process easier and more accessible. Below we have listed, step by step, the volunteer process for joining our girl-empowered organization.
If you have any questions about the new leader training process, please contact us at 800.331.0149 or at 401.331.4500 x 1000. Tell the receptionist your name and the community in which you live and she'll put you in touch with the Membership Specialist for your area.
Steps To Become A Girl Scout Volunteer
1. Become a member of Girl Scouts of the USA (GSUSA). You may register online. The registration fee for adults is $25.00, which goes directly to GSUSA. We also hope you'll consider making a donation to Girl Scouts of Southeastern New England (GSSNE) through our Family Partnership Campaign. This money helps support the activities of your local council.
Financial aid is available based on need. Please refer to payment options when purchasing a membership. 
If your background check doesn't clear, please remember that the registration fee is non-refundable.
2. Authorize a criminal background check. Please complete your mandatory background screening with Verified Volunteers when you are prompted during the registration process. If you live in Massachusetts, you will need to complete a CORI (Criminal Offender Record Information) check as well. 
You will receive an email communication confirming that membership and screenings have been received and processed.
If you are volunteering as a troop support volunteer you are all set once your membership and background screening have been successfully processed.
If you are volunteering for troop leadership, you will need to complete the following training requirements:    
3.  Complete New Leader Training:   
There are several components to new leader training which is a requirement for all volunteers wishing to be Troop Co-Leaders:
~You must complete Girl Scouting 101 and  Volunteer Essential which are both online trainings.
~You  must also complete Troop Leadership Training – this can be done either Online OR at a face-to-face Troop Leadership Training session.
Girl Scouting 101 is an online video prepared by GSUSA. Click HERE to access it. The video takes about 45 minutes to complete, but you may view it one segment at a time.  Once you have completed it, GSUSA will notify GSSNE electronically.
Volunteer Essentials 2018-2019 is the national manual for Girl Scout volunteers prepared by GSUSA.  New volunteers should review the Quick Start portion (through page 21).  The review should take about 15 minutes.  The remainder of the manual is for your future reference, it contains much valuable information.  When you are finished, please fill in the verification form which is fillable online; it will come directly to the council office.
TROOP LEADERSHIP TRAINING This training is designed to get you started as a Girl Scout leader and explains the Girl Scout program elements, troop organization, and more!  Two options are available; either one fulfills the requirement.

OPTION 1 Troop Leadership Training ONLINE We recommend you complete the online training in one session (approximately 45-90 minutes, depending on your pace).  Before you start, please download the Troop Leadership Manual.  You will want to follow along in the manual as you watch the training video. When you are finished, please fill in the verification form; it will come directly to the council office and we will record your course completion.
 OPTION 2 Troop Leadership face-to-face Training.  This two-hour session will cover the manual topics with an experienced council trainer.  It is an opportunity to ask questions and start the planning process.  Register for this training by visiting this link and clicking the "Training" tab dropdown. Locate "Troop Leadership Training", click and then select the date which suits your schedule.
When all three steps are complete, you will receive a "Congratulations!" email from the council along with some reference documents and further steps in starting your troop.