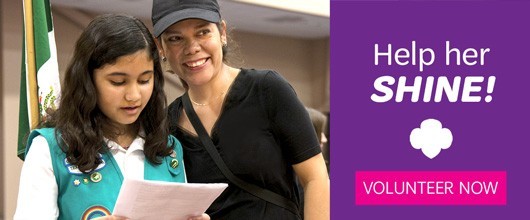 Get Started
We are overjoyed that you are considering becoming a Girl Scout volunteer! As a volunteer, you hold an important role in building girls of courage, confidence and character and in strengthening the next generation of girls.
We know as a volunteer your free time is precious so each year we work to make the training process easier and more accessible. Below we have listed, step by step, the volunteer process for joining our girl-empowered organization.
If you have any questions about the new leader training process, please call us at 800-331-0149 or 401-331-4500 or email customercare@gssne.org. 
Steps To Become A Girl Scout Volunteer
1. Become a member of Girl Scouts of the USA (GSUSA). You may register online. The registration fee for adults is $25.00, which goes directly to GSUSA. We also hope you'll consider making a donation to Girl Scouts of Southeastern New England (GSSNE) through our Family Partnership Campaign. This money helps support the activities of your local council.
Financial aid is available based on need. Please refer to payment options when purchasing a membership. 
If your background check doesn't clear, please remember that the registration fee is non-refundable.
2. Authorize a criminal background check. Please complete your mandatory background screening with Verified Volunteers when you are prompted during the registration process. If you live in Massachusetts, you will need to complete a CORI (Criminal Offender Record Information) check as well. 
You will receive an email communication confirming that membership and screenings have been received and processed.
If you are volunteering as a troop support volunteer you are all set once your membership and background screening have been successfully processed.
If you are volunteering for troop leadership, you will need to complete the following training requirements:    
3. Read and sign the Volunteer Essentials (full of important introductory information)
4.  Within a month, complete Troop Finance training. This online, asynchronous, training will help you understand the economics of Girl Scout funding and troop money management.
GSSNE also offers an array of training, support, and opportunities. From First Aid to Troop Camp Training, Gender Inclusion to Virtual Badging, training is available both in-person and on-demand. We are even bringing training to your region, and growing our experiential, hands-on offerings! Check out the current offerings on gsLearn.