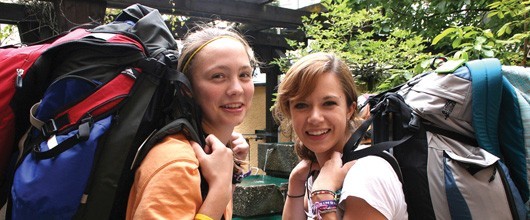 Troop Camping
Troop rentals are now open! At this time, all rentals are operating at 50% capacity. For more COVID-19 specific guidelines, please contact GSSNE Customer Care at CustomerCare@gssne.org
Explore the Beautiful Outdoors with your Troop!
Our lush camp properties are available to Girl Scout troops throughout the year...for one-day "outdoor days" or overnight camping—even during winter!
Please click HERE for detailed information about site/season availability and pricing for outdoor day or overnight stays.
We strive to make our beautiful camp properties available to Girl Scout troops for a variety of purposes throughout the year, even during the winter! While renting our property you may sleep in a platform tent, or in one of our cabins or lodges equipped with bunk beds, kitchen facilities, showers and fireplaces. Depending on the lodge, we can accommodate from 12 to 32 girls and their leaders.
Looking for an Outdoor Day or experience rather than an overnight? You can enjoy Camp Hoffman's Tall Trees unit for a few hours! Practice firebuilding and cooking with your troop or group. Want even more adventure? Your troop or group can climb the rock wall, go swimming or boating, aim for bullseyes at archery, or practice teambuilding at our low ropes challenge course. We'll provide a trained facilitator for you! Submit your request for outdoor programming HERE. 
What Can We Do?
Each GSSNE camp is equipped with a backpack full of outdoor program opportunities. The packs contain ideas, resources and equipment you can use to make your troop camp experience extraordinary and educational. What's inside? Binoculars, magnifying glasses, compasses, nature identification books, paper jackknives, knot ropes, cookbooks, animal track identification, nature games and more! Look for the backpacks (purple or yellow) hanging inside the camp lodges (at Camp Hoffman, the pack is inside House by the Side of the Road).
Take A Virtual Tour 
Thanks to our CCRI video intern, Ashley Medrano, and Girl Scout Gold Award recipient and narrator Emily Markey, we invite you to tour our camps right now!
Click here for a virtual tour of Camp Hoffman in West Kingston, RI.
Click here for a virtual tour of Camp Rocky Farm in Newport, RI.